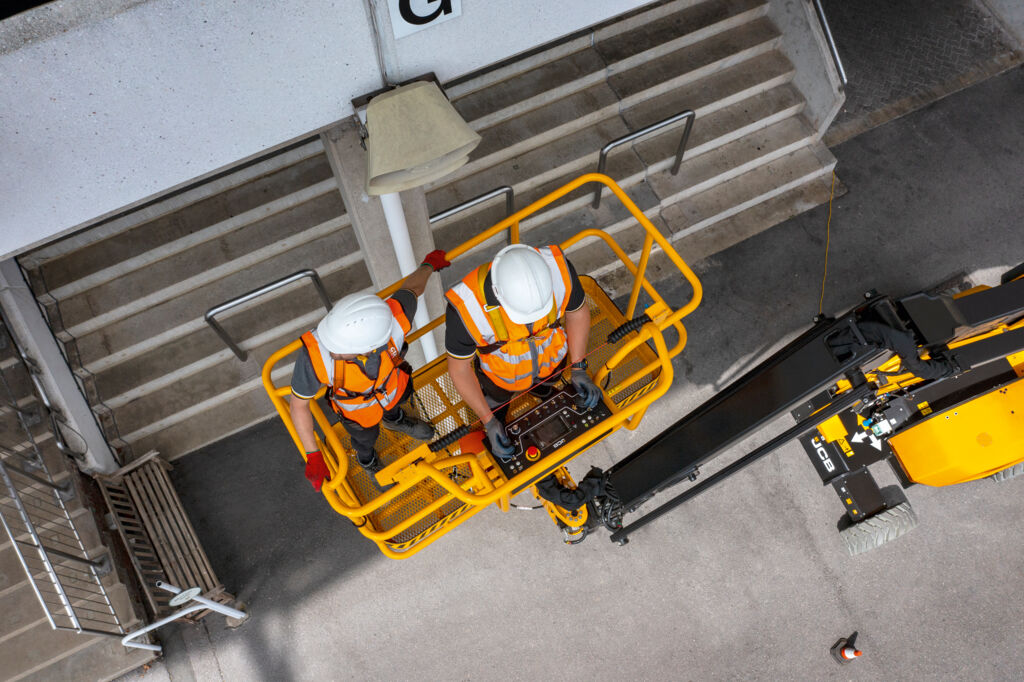 Access Platforms
SPS provide a range of JCB Access Platforms, including Scissor Lifts and Articulated Booms. Part of JCB's E-tech range with zero emissions at the point of use. 
Scissor Lifts and Articulated Booms
JCB Access Platforms are a part of JCB's 100% electric, zero emissions E-TECH range. The range has been developed in-house and consists of a range of scissor lifts ranging from heights of 4.6m to 12.9m, and the all-new JCB A45E and A45EH Articulated Booms. JCB Access machines have been built and certified to a higher standard using only high-quality components and have been fully designed with easy access serviceability in mind.
The JCB Access Platform Range are able to operate both indoors and outdoors allowing for a diverse range of challenges to be met. 
Built with resilient painting protection and robust materials, the JCB Access Range is suited to work in a number of conditions. Take advantage of JCB LiveLink to monitor your machinery remotely, providing necessary information for both rental businesses and contractors. 
JCB Scissor Lifts: Higher Standards
JCB Scissor Lifts are fully electric and are part of JCB's plan to reduce emissions at point of use. Developed for both rental and contractors, JCB Scissor Lifts are designed to be easy to maintain and operate, with no compromise to build quality.
With the range of sizes to suit a number of spaces and height requirements, JCB Scissor Lifts are the perfect additions to any expanding access fleet. 
All-New JCB A45E/A45EH Booms
New for 2023, JCB Articulated Booms provide exceptional performance with a choice of power options. With a maximum platform height of 13.84 metres, reach of 7.47 metres, and up and over clearance 7.48 metres, the A45E and A45EH provide excellent clearance and working dimensions.
With 4WD as standard, Non Marking tyres, and a carrying capacity of up to 300kg, the New JCB Articulated Boom range sets the standard for high productivity and ease-of-use.