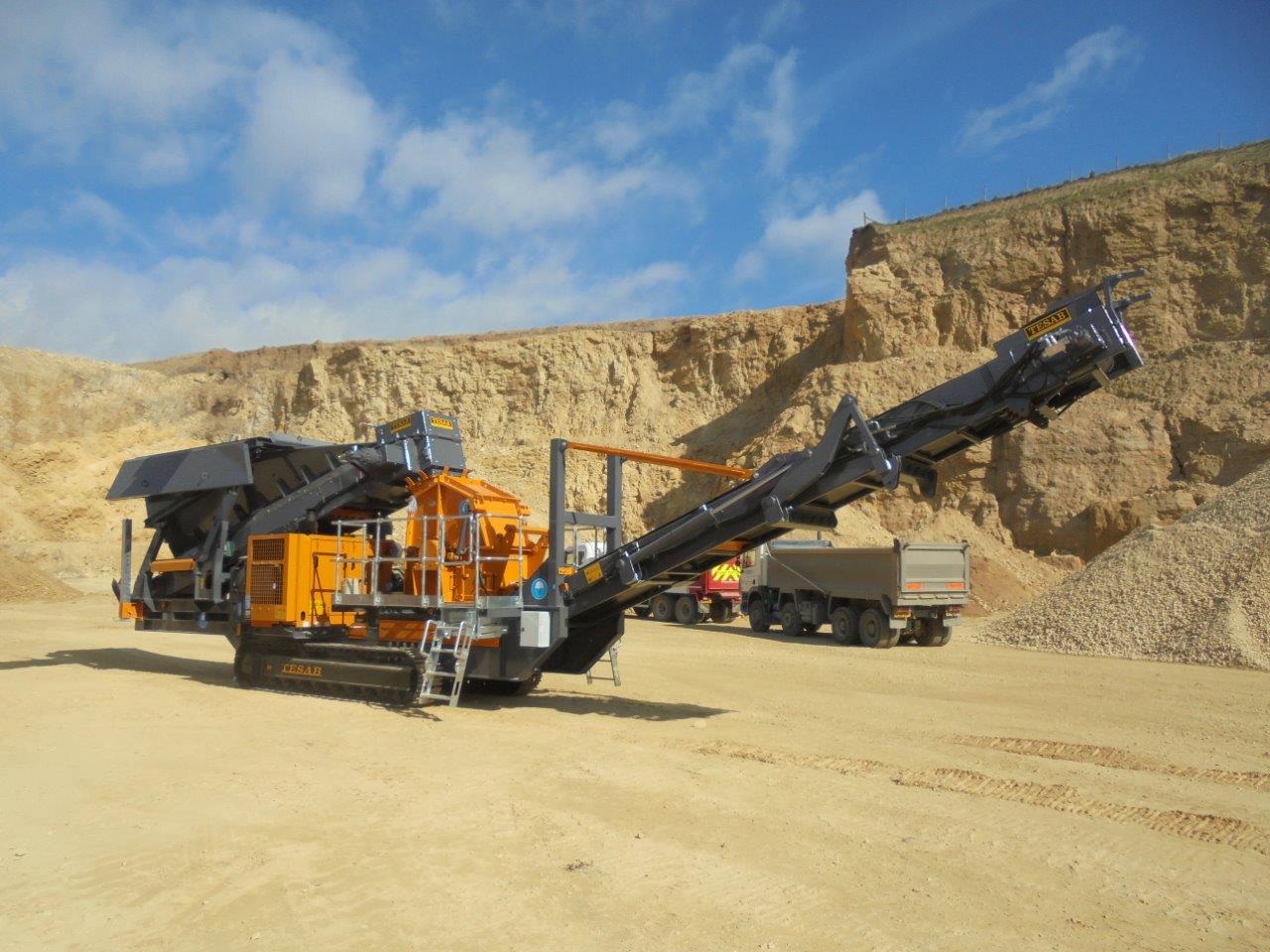 Impact Crushers
Impact crushers are designed with high reduction rates and can provide detailed shaped end products at an efficient low cost per ton. Impact Crushers can fulfil Primary, Secondary, and Tertiary applications. Stewart Plant Sales offer a range of Lippmann and Tesab Impact crushers ready to perform from the first day of operation.
Tesab Impact Crushers
The Tesab range of impact crushers includes the Tesab 623ct, 824T/TR, 1012TS, 1125T/TR1 1350T and 1412TS. Designed for mobile operations, where productivity and affordability are key pillars of operation, the 623ct can fulfil multiple roles in both secondary and tertiary crushing. The 623ct is the impact crusher ready to go in minutes and prepared to work tirelessly on your site from day one.
Tesab's 824T is versatile and easily moved from one job to the next as less than 2.5m. The 36" main conveyor allows a large stockpile. The 824T is perfect for construction, demolition recycling, asphalt recycling and aggregates. The 824TR combines the small but mighty versatility of the 824T with the added benefit of a full screening and recirculating system which will allow you to crush and screen in one, compact machine. 
Tesab's 1125T High Production Impact Crusher gives you the productivity of an 1125mm impactor to a new smaller sized crusher. The 1125T has an excellent layout for operation and advanced technology which has reduced fuel consumption. The 1125TR has the added benefit of a recirculation system for efficient and simple operation. 
The Tesab 1012TS is a heavy-duty, high-performance, superior-end quality tracked Impact Crusher, specifically engineered to accept large feed sizes without compromise. Created by Tesab for both primary and secondary roles within a variety of sectors. The innovative feeder system found on the 1012TS allows for higher throughput than the previous large impact crusher, with a productivity rate of more than 350+ tonnes per hour (tph). 
Tesab's 1350T High Performace Impact Crusher boasts a high production capacity with a newly designed easy access and chassis. The design makes it the perfect impact crusher for the toughest applications. 
Engineered to handle the highest throughput with maximum efficiency, the 1412T features a heavy-duty feed hopper, capable of handling two shovel loads. This provides crucial time for the shovel to reload without stopping the operation, ensuring continuous productivity on your site.
Lippmann Impact Crushers
Lippmann's range of tracked Impact Crusher units focuses on unmatched portability while maintaining the highest levels of performance required. Within the range are the 4244 and 4654 impact crushers. Both models come with a High Energy Screenbox and an ingenious recirculating conveyor. To ensure ease of maintenance, an open chassis allows for easy access.
A direct drive crusher unit allows for increased power compared to previous generations, while also reducing fuel costs, making both models economical to operate. The Lippmann 4244 and 4654 share many of the same features with the 4654 having a larger size for increased operational output. With Lippmann engineered hammer designed for extra long life, the Impact crushers can be provided with the correct blow bar for the material which will be processed through.