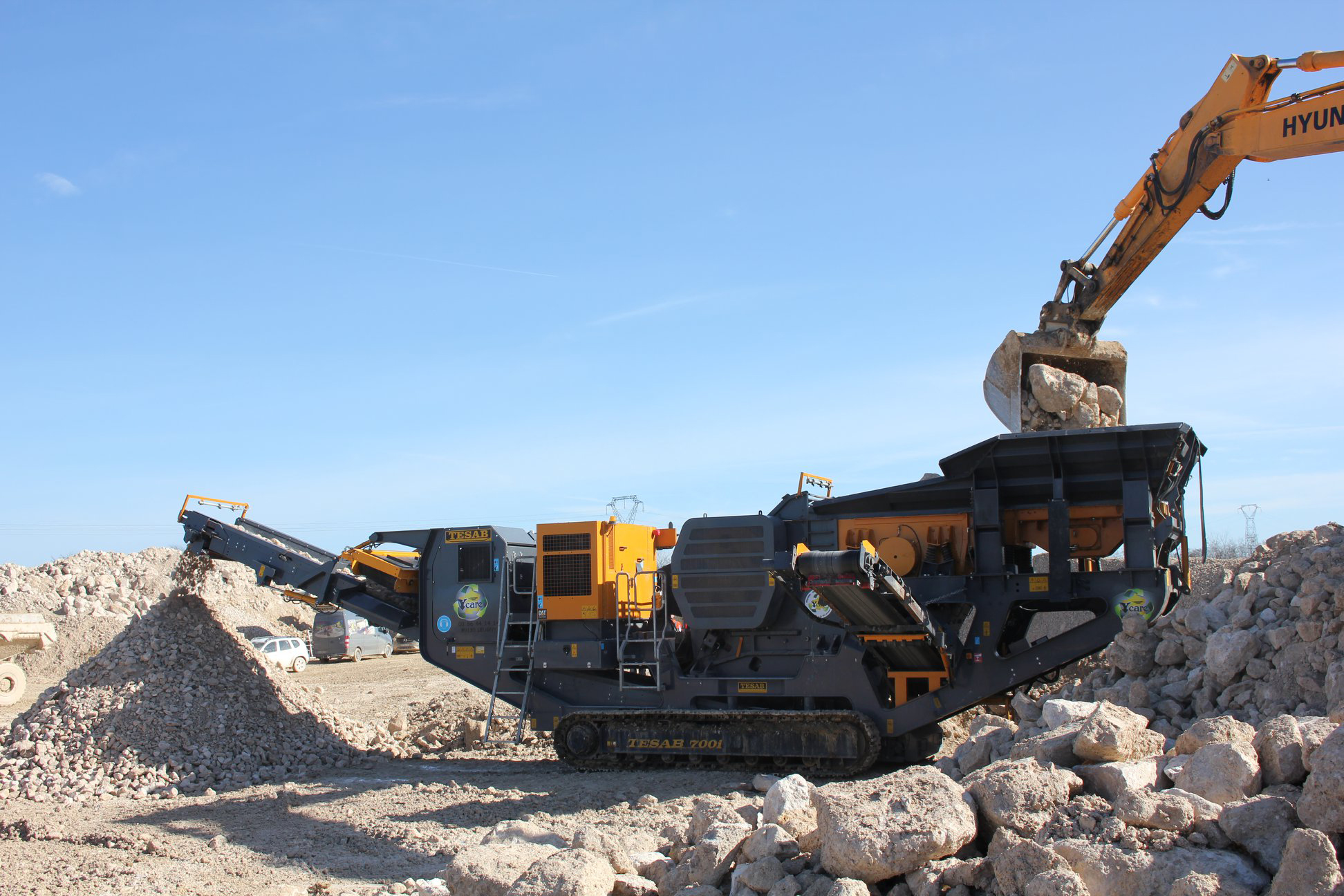 700i Jaw Crusher 
Build upon the proven power of the 10570, the New 700i is an easy to operate, high productivity, long life Tracked Jaw Crusher from Tesab.
The latest design in the expanding range of industry leading machinery, the 700i is designed with maximising your working time as a priority. This has led to a machine which can be set up in minutes and is capable of 350+ Tonnes Per Hour.
The innovative user-friendly design has been created with adaptability in mind, allowing you to manoeuvre and transport on and between sites easily with improved weight and size dimensions.
Crushing the Competition
The centrepiece of the 700i is the Jaw Crushing Unit, already proven on the 10570 as a reliable and productive crusher, there is no sacrifice to the durability you require from a jaw crusher. The 700i is the quintessential crusher for contractors.
Utilising the Direct drive system and Large 54" Flywheel, power is delivered more efficiently to the Crusher Unit. This creates reduced fuel consumption, as low as 22 litres per hour. All this equals lower running costs for your operation, without sacrificing the performance.
The phenomenal 61" Jaw Length is one of the largest available on the market, combined with the superior strength of the materials, makes the lightest work of your heaviest jobs.
800i Jaw Crusher 
Designed for the toughest conditions found specifically in the Quarrying industry, the Tesab 800i Jaw Crusher is the latest heavy duty Jaw Crusher, engineered with an additional pre-screen for high productivity levels, which allows for throughput rates of more than 400 TPH. Your heavy-duty crusher has arrived – The Tesab 800i
High Quality in Heavy Quarrying
The unique challenges which the quarry market encounters are resolved with the 800i. The state-of-the-art extra-long Jaw is engineered with an innovative 'nip-angle', making this machine suited to hard rock industries.
High levels of performance and productivity are guaranteed, with the 24-ton jaw crusher unit. Combined with Tesab's direct drive design and large flywheel found in a variety of other successful crushers, it creates a more efficient power delivery system. This results in lower fuel usage, only around 25L per hour – reducing costs and increasing productivity for your quarry operation.