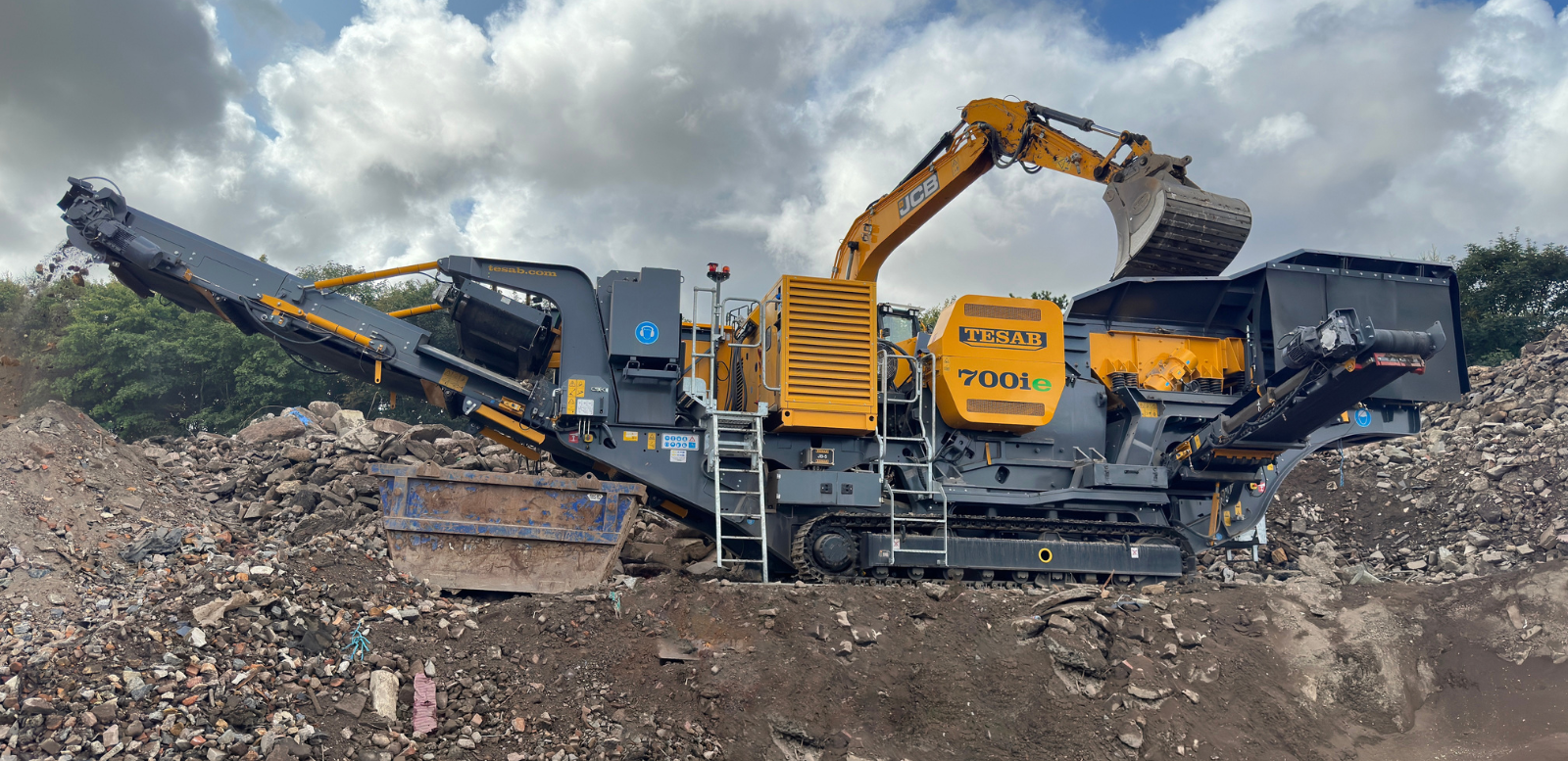 Tesab 500i
Highly mobile, the Tesab 500i is the most compact jaw crusher in the range, however, it does still pack a punch. At only 2.5m wide the smaller size means it can be moved between sites with ease and set up quickly. 
The one-piece vibrating grizzly feeder has a 2.75m3 volume capacity and the 500i comes complete with manual and remote adjustable speed. The 500i is also able to move and crush at the same time which increases efficiency and reduces downtime. 
Tesab 600i
This easily portable model from Tesab has a heavy-duty cheek plate and very user-friendly and dustproof controls where you can monitor pressure, fluid levels, and fuel consumption. 
The 600i is also 2.5 m wide so is perfect for applications where the crusher is required to move around the site. The 600i has a deeper jaw box and a quicker jaw speed, and an extended 36" main conveyor as standard ensuring you have an increased stockpile capacity. 
The 600i gives you the power and capacity you would expect from Tesab but in a smaller, more mobile package. 
Tesab 700i and 700ie Jaw Crushers 
Built upon the proven power of the 10570, the 700i is an easy-to-operate, high-productivity, long life Tracked Jaw Crusher from Tesab. 
The latest design in the expanding range of industry-leading machinery, the 700i and 700ie are designed to maximise your uptime as a priority. These machines can be set up in minutes and are capable of 350+ tonnes per hour.
The innovative user-friendly design has been created with adaptability in mind, allowing you to manoeuvre and transport on and between sites easily with improved weight and size dimensions.
The centrepiece of the 700i and 700ie is the Jaw Crushing Unit, already proven on the 10570 as a reliable and productive crusher, there is no sacrifice to the durability you require from a jaw crusher. The 700i is the quintessential crusher for contractors.
Utilising the Direct drive system and Large 54" Flywheel, power is delivered more efficiently to the Crusher Unit. This creates reduced fuel consumption, as low as 22 litres per hour. All this equals lower running costs for your operation, without sacrificing performance.
The phenomenal 61" Jaw Length is one of the largest available on the market, combined with the superior strength of the materials, makes the lightest work of your heaviest jobs.
The Tesab 700ie is up to 33% more fuel efficient and can reduce operating costs by up to 70%. 
Tesab 800i and  800ie Jaw Crushers 
Designed for the toughest conditions found specifically in the quarrying industry, the Tesab 800i and 800ie Jaw Crushers are engineered with an additional pre-screen for high productivity levels, which allows for production rates of more than 400 TPH. Your heavy-duty crusher has arrived – The Tesab 800i or 800ie
The state-of-the-art extra-long Jaw is engineered with an innovative 'nip-angle', making this machine suited to hard rock industries. High levels of performance and productivity are guaranteed, with the 24-ton jaw crusher unit. Combined with Tesab's direct drive design and large flywheel found in a variety of other successful crushers, it creates a more efficient power delivery system. This results in lower fuel usage, only around 25L per hour – reducing costs and increasing productivity for your quarry operation.
The Tesab 800ie is up to 33% more fuel efficient and can reduce your operating costs by up to 70%. 
Lippmann 1200J Jaw Crusher
The Lippmann 1200J Jaw Crusher provides a true edge on all job sites, which combines reduced electric power operation costs with an increase in reliability. The 75" deep chamber handles the toughest roles in a multitude of industries, including construction, mining, aggregate and recycling.  Lippmann engineers have optimised the 1200J for class-leading productivity, allowing for the smoothest throughput and operational performance.
Designed specifically for high productivity, the 1.91m jaw chamber performs superb with hard rock applications and large feed size. Adjustable for multiple challenges, the closed side setting allows for full personalisation over material output size and tonnes processed per hour. This allows the 1200J to process a maximum of up to 540 Metric Tonnes Per Hour (MTPH).
A State-of-the-art yet straightforward machine, the Lippmann 1200J has been designed with ease of maintenance in mind, with simple to find access points at critical parts. The Open Chassis design means reduced maintenance times and increased working hours, to keep your production line moving efficiently.