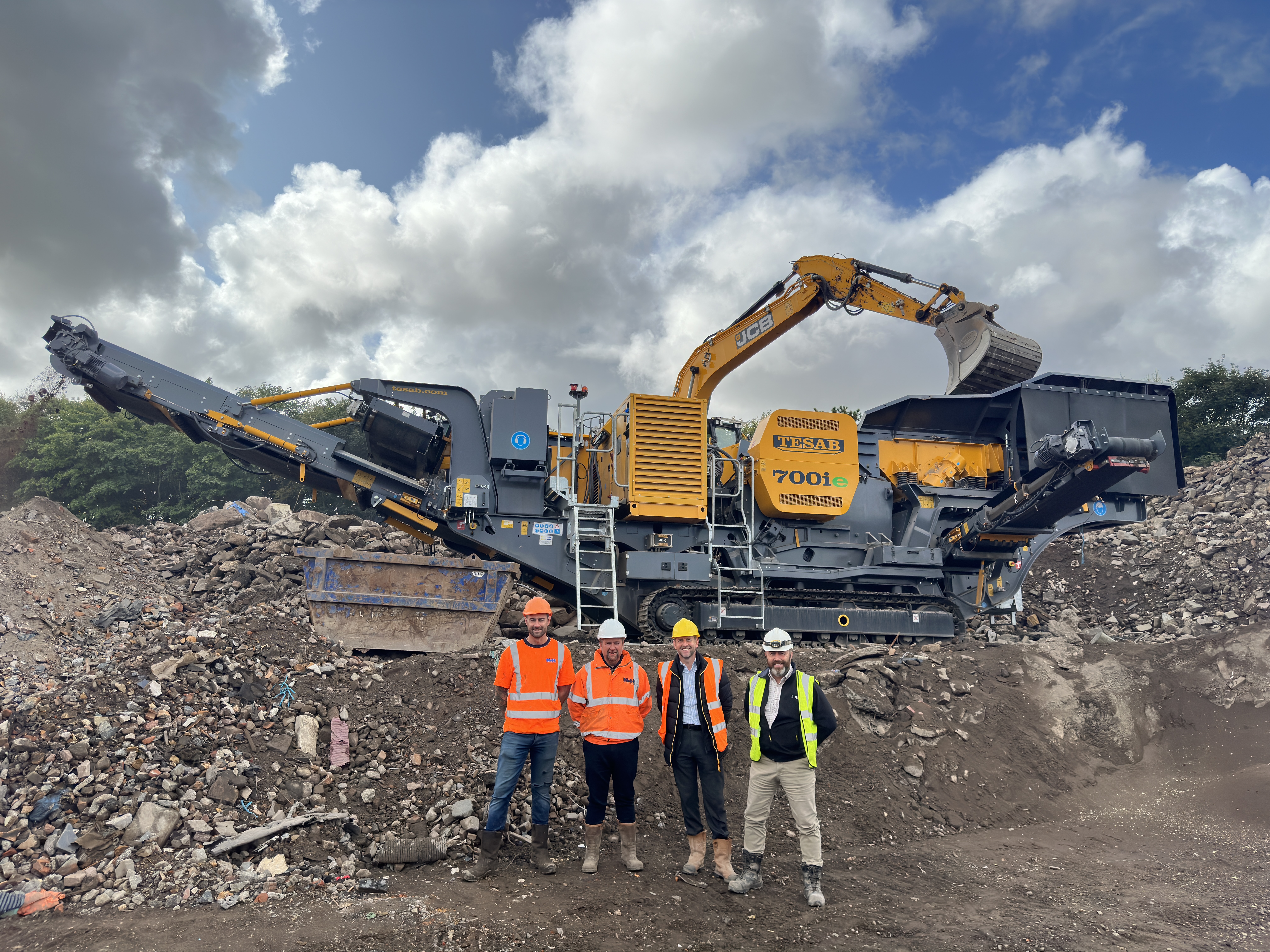 Tesab 700ie - Helping NWH Reduce Costs and Increase Efficiency
The NWH Group is one of the UK's leading recycling and waste management businesses. It is a second-generation family business which is based at ten sites across Scotland and the North of England providing waste management solutions to industrial, commercial and construction industries. They are an ambitious company in a growing sector who put compliance and customer service at the heart of everything they do.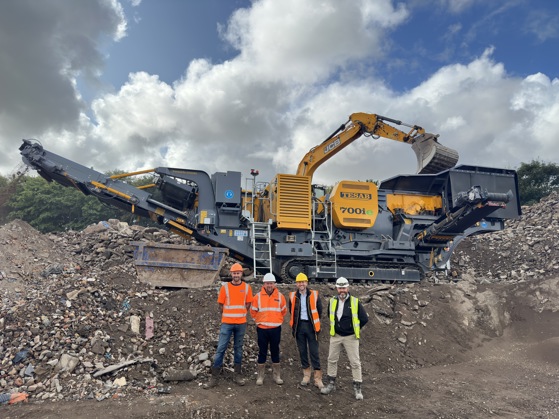 Darren Gracie (NWH Group), Craig Williams (NWH Group), Scott Logan (Scot JCB), Paul Toulouse (Stewart Plant Sales). 
NWH have a long-standing relationship with the Scot JCB Group, and we caught up with Craig Williams, Group Operations Director to find out more about their recent purchase of a Tesab 700ie.
When Craig started at NWH in 1987 he joined straight from school. The company was then owned by his father, and he said over the years he has undertaken almost every kind of role at the company. Before his current position he was the Operations Director, however now as well as still being involved in ops he is overseeing the sales function, customer retention and of course purchasing of new machinery and lorries for NWH.
Hybrid: Cost Saving and Efficient
NWH recently took delivery of a new Tesab 700ie jaw crusher. The 700ie is an easy to operate, high productivity, long life hybrid jaw crusher which is capable of crushing 350tonnes per hour. The Tesab 700ie is up to 33% more fuel efficient and can reduce operating costs by up to 70% application dependant.
NWH were looking to replace an older crusher so, our Material Processing Manager Paul Toulouse met up with Craig to discuss how the crusher would be used.
Efficiency is of course very high on the list of priorities from NWH, "The hybrid option saves us about twelve litres of fuel every hour, of every day. If you're working a ten-hour day and a five-day week, then that's 600 litres of fuel saved every week or over 31,000 litres a year. Especially now it is white diesel we use savings like that are massive."
Top Marks for Customer Service
Customer service and backup up is another really important element of NWH's purchasing decision. Craig said, "With Stewart Plant Sales, you know you are going to get the same backup and customer service that we get from working with Scot JCB and you guys are a ten out of ten, compared with some others in the industry who are sitting at about a three." Paul Toulouse added, "we are always on hand if required, if something needs adjusted or there are any issues at all Craig knows I'm only at the end of the phone."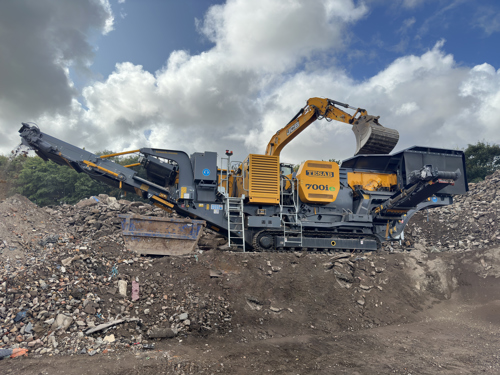 Reduced Downtime and First Time Feed
NHW's new Tesab 700ie has a metal detection system on the main belt which removes metal from the finished product, saving money and reducing downtime.  
The 700ie from Tesab produces the ideal material size for NWH which is perfect for the plant wash system, Craig commented "previously the material was oversized which resulted in 25% coming back to us, that's 5,000 tonnes per year."
The feedback from the operators has also been very encouraging, "So far, all the feedback on the Tesab 700ie has been all positive and having the backup from Paul and Stewart Plant Sales really does make a difference".
Craig finished by adding "From the fuel savings to the reduced downtime costs and getting the right size material on the first pass it really is a no-brainer."
For more information about our Materials Handling products, contact Paul Toulouse on 07736 928041 or at paul.toulouse@stewart-plant-sales.co.uk